Our mission is to empower members of the California chronic illness community to live full, meaningful lives.  We emphasize teamwork where you are the expert of your body and experiences, and the OT is the expert of the therapeutic process.  Together we can formulate meaningful goals and implement strategies to achieve those goals.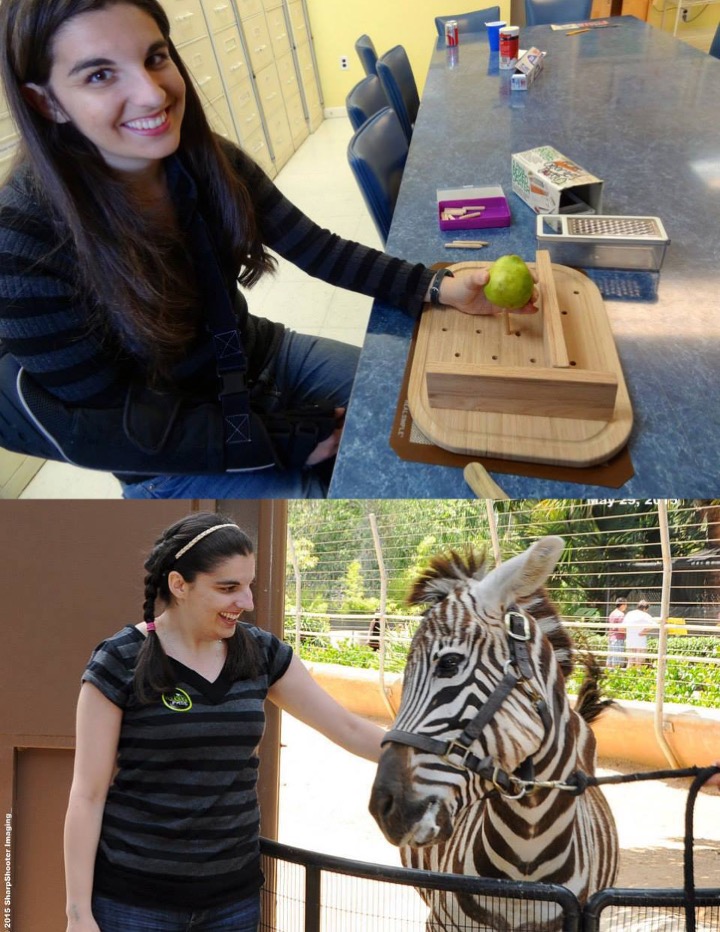 Top Image: Emily testing an adaptive cutting board that she made for a client with hemiplegia who loved to cook.
Bottom Image: Emily meeting Zari, a fellow zebra at the San Diego Zoo.
Emily is an occupational therapist who created Empower OT to help address needs she saw in the chronic illness community.  She believes that everyone should have access to quality healthcare, exist in environments that support their goals, and understand how to work with their body to achieve comfort, well-being, and personal fulfillment.   
Emily received a kinesiology degree with a biology minor from Cal Poly, SLO.  As part of her undergraduate degree, she had the unique and exhilarating experience of studying abroad in over 10 different countries through Semester at Sea.  In 2015, she earned her masters in occupational therapy through Tufts University's Boston school of Occupational Therapy.   
Emily has worked with neurodivergent (Autistic and ADHD) children and their families in an outpatient pediatric gym where she led sensorimotor groups and individual OT sessions.  She has worked with adults who had a wide range of health conditions in an outpatient clinic, adult dayhab facility, and transitional homeless shelter where she led interest based groups, assistive technology consults, and individual OT sessions.  Emily is committed to helping her clients create and achieve meaningful goals through an empowerment model.  She believes occupational therapy is a team endeavor where respect and genuine connection is vital. 
Emily had the honor of contributing to the book Disjointed (edited by Diana Jovin) in the Occupational Therapy, Sensory, and Adaptive Equipment chapters.  She is the co-founder and co-leader of the Silicon Valley Ehlers-Danlos Syndrome Support Group and is proud of the advocacy work the group has done to increase physician and therapist understanding of EDS in the South Bay Area.  Emily has been active in patient advocacy at the individual, local, state, and national levels since 2008.   
Emily enjoys a slow afternoon of crocheting and podcasts, the thrill of (accessible) travel, and the connections she has with her friends, family, and community.